Benefits
ultrafast drying thanks to unique Integrated Safe Color System (ISCS) powder technology!
---
up to 25% faster application
---
even more shine and impeccable gloss up to several weeks, thanks to LART Shine Formula
---
extra intense colors!
---
easy application
---
visibly healthier nails
LART Supreme
highly effective, integrated, one-step system of professional manicure products, that ensures easier and more efficient work, great results very time, and more profit! LART SUPREME is a technological breakthrough in professional nail stylization. An innovative dipping system with unique qualities!
Apply LART Gel Supreme as base, top and activator.
Dip in powder.
Enjoy a durable, healthy and beautiful manicure!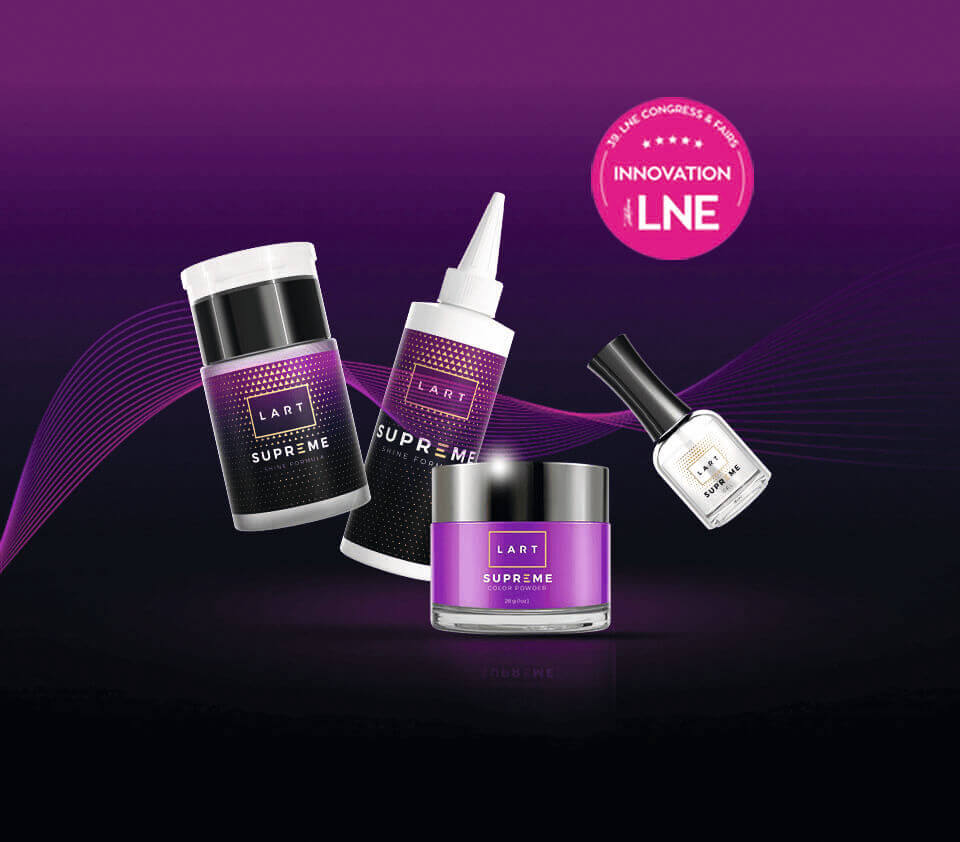 Revolutionary
Integrated Safe Color System ® powder technology that guarantees ultra-fast drying, reduces work time by 25% and allows you to prepare even more stylizations
Exceptional durability
which your clients value most – no flaking and scratches until the next application!
Safety
of LART products, which are completely harmless for pregnant women and diabetics. UV/LED lights are not used during application
Easy application
simple, one-step system that doesn't require changing your working habits and ensures workload reduction
women-oriented
products designed together with best and most experienced manicure stylists
Special tasks system
can be used with difficult nail plate or mechanically damaged nails. Thanks to vitamin E and calcium content, it evens the irregularities, enhances and rebuilds damaged nail plate, and ensures faster growth. It can be used to extend fingernails to any length!
Perfect, naturally looking nails
extra shine that lasts up to several weeks without flaking and scratches, even more intense colors that don't wear off, and guaranteed ideal opacity!